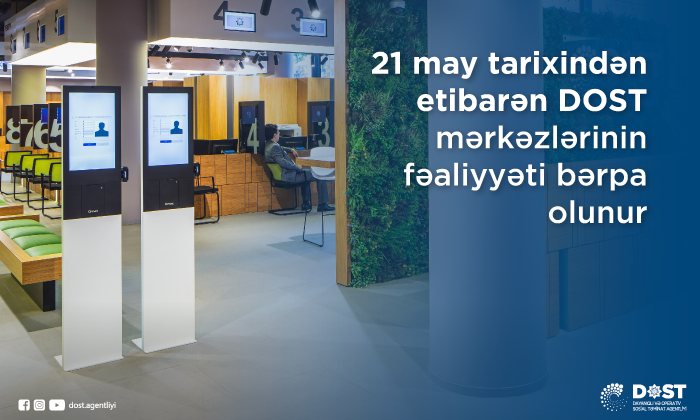 From May 21, 2020, the procedure of providing services to citizens in Baku DOST Centers No. 1 and 2 of the Agency for Sustainable and Operational Social Security (DOST) under the Ministry of Labor and Social Protection will be restored.
Baku DOST Center No. 3 temporarily will provide limited amount of services to citizens.
The recommendations of the World Health Organization (WHO) on protection against the Covid-19 virus will be followed during the service to citizens. Thus, in addition to providing employees with protective masks, conditions will be created for citizens to use disinfectants in DOST centers. Citizens visiting the centers are also advised to wear protective face masks in accordance with WHO recommendations. It is important that they adhere to medical and preventive rules and maintain social distance.
It should be noted that due to the special quarantine regime applied in our country, a special work regime has been applied in DOST centers since March 15. Citizens' appeals were received and processed via the Internet.