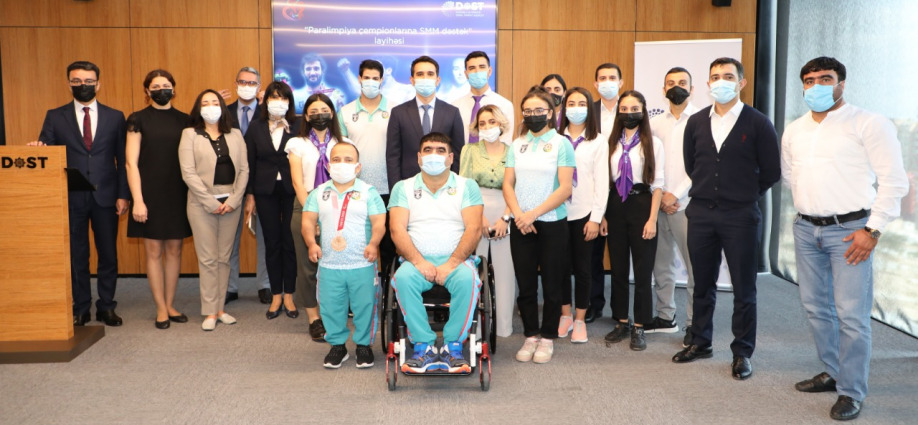 With the support of DOST Agency, the project "SMM support for the winners of the Paralympic Games" is launched. Under the project, official accounts of Paralympic Games winners will be created and managed on social networks.
Before the event, representatives of the National Paralympic Committee and athletes got acquainted with the Baku DOST Center No. 1. Then, representatives of the DOST Agency and the Paralympic Committee, the athlete who achieved success at the XVI Summer Paralympic Games in Tokyo 2020, as well as "Volunteer DOST", who will work in the EMC team, spoke.
Ruslan Mirzaliyev, Counsellor to the Chairman of the Board of the Agency, made a presentation on the project.
The purpose of the project is to highlight the success of our Paralympians, their lifestyle and training process. In this way, it is intended to increase the interest of children with disabilities and people with disabilities in sports, to form a positive image of athletes and to motivate young people.
The project will initially form an EMC support team. Social networking algorithms, creative tools in the field of PR, creating and managing the right content on social media, etc. Trainings will be held in the following directions: In the final stage of the project, a media plan will be developed and EMC support will be implemented.
At the initial stage, the social media accounts of 4 Paralympic champions Shahana Hajiyeva, Orkhan Aslanov, Elvin Astanov, Hamid Heydari and bronze medalist of the XVI Summer Paralympic Games "Tokyo 2020" Parvin Mammadov will be managed.