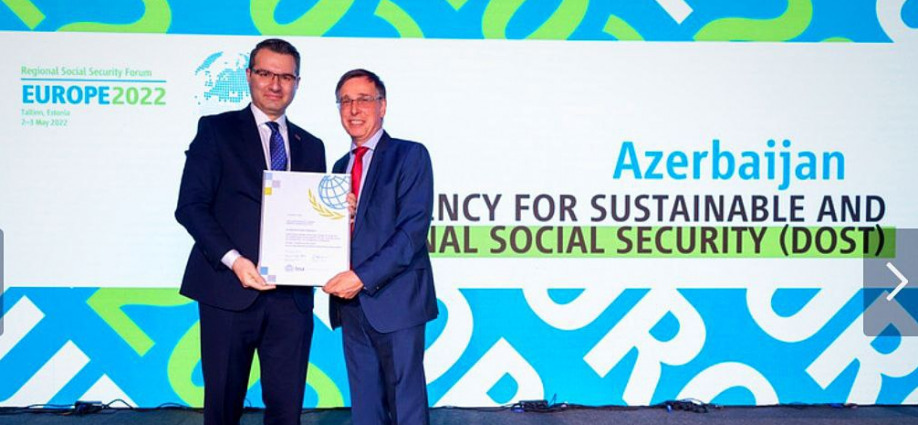 Each of the three applications submitted by DOST Agency to the International Social Security Association (ISSA) for "Good Practice Award for Europe - 2022" was awarded honorary diplomas and certificates by the Independent International Jury on February 15, 2022. The awards were presented on May 2, 2022 at the Regional Social Security Forum for Europe in Tallinn, Estonia. DOST Agency participated in the competition with the projects "Citizen Satisfaction Monitoring System", "DOST Agency for Dignity and Equal Rights" and "DOST: Social Protection of Persons Over 65".
Farid Mammadov, Chairman of the Board of DOST Agency, had a speech with a presentation entitled "DOST Agency for a dignified life: ensuring social protection for 65+ people."
The presentation focused on the establishment of social services for people over 65, innovative approaches and measures taken to address the challenges of the COVID-19 pandemic, the impact of the steps taken and the assessment of outcomes, lessons learned and recommendations, as well as the experience of the "Active Aging" project implemented jointly with UN Population Fund was reported.
It should be noted that DOST Agency was declared the winner last year in the nomination "Technology Tools" of another international organization - the European Social Network. The Agency was awarded the Honorary Diploma of the International Association of Pension and Social Funds for its methods.
DOST Agency was established on August 9, 2018 by the Decree of President Ilham Aliyev. The DOST concept, initiated by First Vice President Mehriban Aliyeva, ensures that 154 public social services are provided through a "single window", in an efficient, transparent and citizen-friendly manner. At present, the level of satisfaction of citizens with the services provided in 5 DOST centers is over 98 percent.