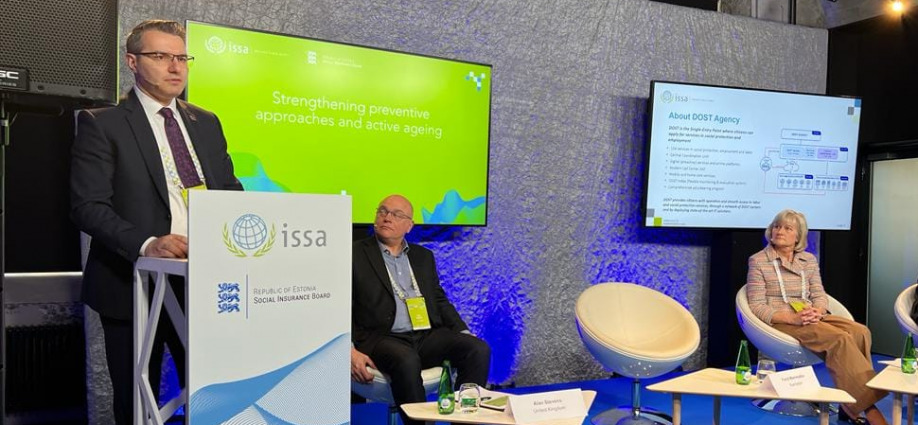 DOST Agency has won Good Practice in Europe Awards competition. The awards of the competition, organized by the International Social Security Association (ISSA), were presented as part of the Regional Social Security Forum for Europe in Tallinn, Estonia.
DOST Agency, which participates in the competition through the State Social Protection Fund, participated with applications for "Citizen Satisfaction Monitoring System", "DOST Agency: for Dignity and Equal Rights" and "DOST: Social Protection of Persons Over 65". The candidates were evaluated by an independent international jury.
32 organizations from 20 European countries were represented in the competition with 96 applications. The competition, which evaluates important administrative initiatives and innovative solutions implemented by enterprises, provides a unique opportunity to introduce good management practices to a global audience. The main goal here is to organize a perfect social security.
The ISSA Good Practice Award is announced every three years for Africa, America, Europe, Asia and the Pacific region and is presented at a social security forum for each region.
The International Social Security Association, the world's leading organization specializing in social security, was established in 1927 under the patronage of the International Labor Organization. It unites more than 320 organizations from 160 countries. ISSA promotes good governance in the field of social security through professional guidance, training, expert knowledge and services to develop dynamic social security systems and policies around the world. In order to take advantage of this opportunity, DOST Agency also participates in the "Service Quality" category of the ISSA Recognition Program.
It should be noted that in 2020 and 2021, DOST Agency was included in the finalists of another international organization - the European Social Network - the European Social Services Award, and in April 2021 was awarded the highest award in the category "Technology Tools". In February of this year, DOST Agency was awarded the "Honorary Decree of the International Association of Pensions and Social Funds" for "advanced innovations in the field of social security and citizen satisfaction, the application of digital technologies, as well as operational methods in providing public services."