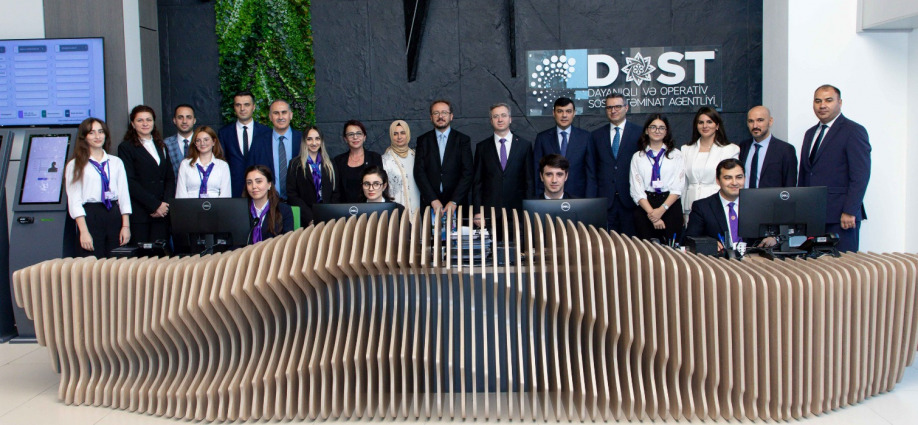 A delegation led by the head of the Labor Inspectorate of the Ministry of Labor and Social Security of the Republic of Turkey, Bekir Akturk, visited the Baku DOST Center No. 5.
First, the guests were informed about the activities of the DOST centers. It was emphasized that the DOST concept created the conditions for the provision of public social services in our country from a "single window", based on the principles of efficiency and citizen satisfaction.
Later, a bilateral meeting took place with the Turkish delegation. The meeting was attended by the Chairman of the Board of the DOST Agency Farid Mammadov, the Head of the State Labor Inspection Service Vali Guliyev.
Information was provided on the reforms being carried out in the field of labor, employment and social protection in Azerbaijan, the widespread use of innovative solutions in these areas, the DOST concept and rehabilitation services provided to persons with disabilities in our country.
The prospects for cooperation between the departments were also discussed at the meeting, and views were exchanged on issues of bilateral interest.
It should be noted that the meeting took place within the framework of the visit of the delegation of the Ministry of Labor and Social Protection of the Republic of Turkey to the Republic of Azerbaijan on September 11-15. The purpose of the visit is to exchange experience between the two ministries at the level of cooperation in the field of state control over compliance with labor legislation, labor protection and safety, and improving the activities of labor inspectors in accordance with the event plan for 2022-2023.